****DISASTER RELIEF****
Tropical Storm Nate has hit, there is still work to be done from Irma and Jose, and Lutheran Disaster Response is still in the trenches! We invite you to stand by our neighbors affected by the recent hurricanes. Your gifts ensure that our church will be able to provide help and hope for those left homeless or otherwise affected by this disaster for years to come.
Gifts to Lutheran Disaster Response, designated for "Hurricane Response – United States" will be used entirely (100 percent) for this disaster until the response is complete. Or you can designate your donation for the area of greatest need. Together, we can help provide immediate and long-lasting support. Give today to support the needs in this response and others like it. Click anywhere in these paragraphs to give.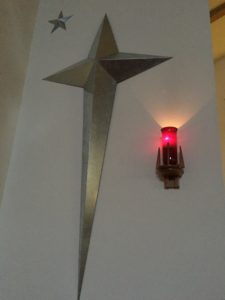 You've found the website for Poulsbo First Lutheran Church (PFLC).  Whether you're wondering about Christianity or considering worshipping in this place, you can find information here.
PFLC is a congregation of the Evangelical Lutheran Church in America (ELCA).  God is calling PFLC to be a place of grace for all people and a community of people who serve local and global neighbors. Here you are encouraged to live out your faith through worshipping God, learning about God, serving others, sharing the gospel with others, supporting others, and caring for that which God has entrusted to you.
Feel free to wander around the website, come and wander around in person and meet the pastors and staff, or contact us by phone or email.
Since worshipping in any place for the first time can be intimidating, the staff has put together some helpful information, in the hopes that it will answer your questions and reduce any anxiety you may have about what to expect when you worship at Poulsbo First Lutheran Church.  There is also a map and directions for your convenience.
Feel free to avail yourself of the labyrinth on the patio of the Christian Center. Or if you'd like to serve your neighbor in the Kitsap community or around the world, you can find service opportunities here.